WELCOME TO THE MAKER REVOLUTION
Teaching Handmade Business Owners How To Build Profitable And Sustainable Businesses That Generate

CONSISTENT SALES YEAR ROUND ...Without Relying On Social Media.
Are you tired of 'creating content', 'showing up on camera', 'engaging' with your followers... and STILL waiting for them to turn into paying customers?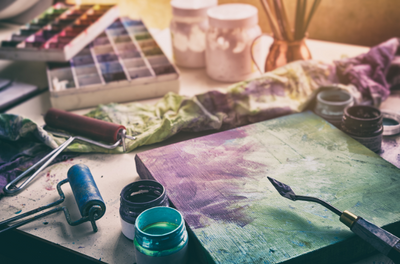 If you've ever felt like there has to be a better way to build your handmade business online,... you're absolutely right.
You CAN build a profitable and sustainable handmade business online, without "creating content", "showing up on camera" and "engaging in the comments".
Makers, Artists and Handmade Business Owners around the world are ditching the Influencer strategy of marketing, and building wildly successful businesses that generate consistent sales year round.
All That "Expert" Advice You See Online...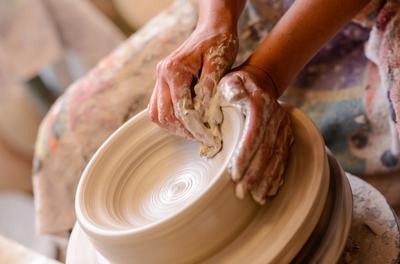 It's garbage... because it's based on the assumption that you don't have a "real" business, so all you need to worry about is social media marketing.
The problem with that is... social media marketing is the LAST step in building a profitable and sustainable business... not the first.
AND, it's a completely passive strategy. Who has time to spend months (years) engaging and waiting for their followers to magically decide to purchase someday?
And by the way... that "Influencer" strategy of marketing was created to sell personal brands ...NOT physical products.
If you're here you've probably had these thoughts...
Why isn't this working?
You've tried all the "right" things (posting, sharing, engaging) and you're not getting the results you want.
What's wrong with me?
Maybe it's you and you're just not cut out for this business. It seems to be working for everyone else.
This can't be the only way.
It doesn't feel right. You've tried and it just doesn't resonate or feel authentic to you or your business.
This is exhausting.
Sharing about your personal life, when you don't really want to, is not something you're willing to do.
I can relate. We've ALL been told that using this influencer strategy is the best and most effective way to generate sales online.
But it's just not true. There's a much better (and easier) way.
How many months (years?) have you spent 'creating content' and trying to get more followers? ...How many more are you willing to spend?
SOME RED FLAGS TO LOOK FOR WHEN GETTING BUSINESS ADVICE ONLINE
Is the advice something you can implement TODAY and generate income NOW?

How many months (years) have you spent "creating content" and "showing up on camera"?

Is it generating cash flow? Or are you still waiting/hoping for your followers to turn into paying customers?
How much longer are you willing to wait for it to "pay off"?
Is the advice something that has to be done manually, by you, over and over every day, in order to generate results?
If so, are you happy with the results you're getting?
Is the amount of work it takes sustainable? (ie: Are you willing/able to continue at this pace for as long as you want your business to exist?)
Can you take time off without your sales taking time off too?
Is the advice something that builds YOUR business, or someone else's?
Are you building an audience for yourself, or for Facebook/Etsy etc? (ie: If you left that platform, or it disappeared overnight, could you take your audience with you and still be able to contact and sell to them via email, etc?)
Is the advice focused on getting followers, or getting sales?
Does is directly generate sales, or does it involve engaging (ie: entertaining) them and hoping they decide to buy someday?
Does it focus on building an audience of paying customers, or trying to build up your follower count?
Does it focus on building a Facebook/Insta business? Or a business that can exist (and thrive) off social media as well?
Is the 'expert' giving the advice selling a personal brand (ie: their own name and face)?

Are they giving advice focused on that end goal, or is it focused on generating actual sales and cash flow?
Have they built a successful business offline, or does it exist solely online?
WHO DECIDED THAT THIS WAS A GOOD BUSINESS MODEL FOR SELLING PHYSICAL PRODUCTS??
Spend months (years) building up a list of followers...
Entertain them regularly on social media...
Engage with them in the comments...
Overshare about our personal lives...
Make videos of ourselves and post them online...
Repeat on the next social media platform...
And THEN... hope that someday they'll decide to buy something??
Doesn't it make more sense to just get them to buy from you TODAY??

Generate consistent sales year round...
and FINALLY ditch the rollercoaster of feast or famine sales?
Take time off whenever you wanted...
WITHOUT your sales taking time off too?
Build an audience of paying customers, not followers...
and get them to want to buy from you TODAY?
Spend LESS than an hour a week on social media...
and still make MORE money?
You CAN. I created a 30 day blueprint that turns your business into a machine, so that you can do ALL of that and MORE! (And I promise, it's sooo much easier than what you're doing now.)
I started my first handmade business online way back in the 1900's. December 1999 to be exact.
I had graduated a few years prior with a marketing degree, and had already worked several years in retail and direct sales both. My experience ran the gamut from mom and pop stores, to Sak's Fifth Avenue.
Back then online sales wasn't that much different than in person, besides the shipping aspect.
But when social media came onto the scene, everyone just forgot about the fundamental principles of sales and marketing that had been working for decades (and still work today).
All of a sudden the marketing and sales process turned completely passive. Now we were just supposed to create a profile and start attracting followers. The sales would come later. After we had built a relationship with them, hopefully they would finally decide to buy something.
It never made any sense to me. We weren't selling anymore, we were just entertaining.
By then I also had a brick and mortar retail store that I was trying to build. But I am an introvert, and I quickly decided that there was no way in hell I was going to become the "face" of my handmade product business by sharing about my personal life, and trying to build relationships with strangers online.
So, I sat down and took stock of where I was, where I wanted to go, and what I was willing to do to get there... and maintain it. I also decided that as long as I was creating my own strategy, I might as well make it as easy as possible.
My philosophy became; What is the least amount of work I can do, to make the most amount of money? I created a plan, crafted my strategy, and... it worked.
I turned my business into a machine.
I called it The Maker CEO Strategy, and
the idea for The Maker Revolution was born.
Mary Borth, Founder
The Maker Revolution
The Maker Revolution was created to teach you the ONE strategy you need to build a profitable and sustainable business that generates CONSISTENT SALES YEAR ROUND. Without Relying On Social Media.

WHAT IS THE MAKER REVOLUTION?
It's the first of its kind, comprehensive business skills based program specifically for handmade business owners.
I've distilled the entire business framework down to ONE strategy, that you can easily implement and AUTOMATE to run every 30 days, year round, to generate consistent sales.
I teach you the skills you need to implement the processes and systems that drive results.
It's not an online course where you have to complete modules, keep track of pdfs, and progress through the material on someone else's schedule.

And it's not a membership where you have to join another Facebook group to get the content, or show up for Zoom calls and live sessions.
The program is self-paced, so there is no pressure to stay caught up or worry about being behind. If a workshop doesn't resonate with you when it comes out, you can always come back to it whenever you're ready.
When you join today, you'll receive instant access to the first workshop, which teaches you HOW TO SET UP AND IMPLEMENT the Maker CEO Strategy.
Then, every 7 days (for the next 12 months) you'll receive additional training and resources that teach you the skills, processes and systems you need to customize and automate the strategy to fit YOUR business and YOUR lifestyle.

All of the training and resources are action-oriented and designed to drive results and generate income. There is nothing conceptual or vague like "create content" or "engage".
I provide EVERYTHING you need and deliver it directly to you. All of the resources are bite-sized and EASY to implement, with NO fancy or complicated tech!
Resources include workshops, mini-courses, webinars, masterclasses, checklists, templates and MORE!

The MAKER CEO STRATEGY is a 30-day blueprint that you set up once, then use over and over year round.

You'll get instant access to the MCEO Workshop TODAY, so you can start generating more sales right away. You'll learn the core strategy and everything you need to begin using it in your business right away.
My hope is that you'll finish this program feeling 100% equipped, empowered and inspired to make every decision and take every action required to build your business, on your own terms.
The Maker Revolution Is The ONLY Business Resource You Will Ever Need.
It's the perfect vehicle for growing your handmade business. I know how much time you don't have, and I know how overwhelming it can be to keep every aspect of your business running smoothly.
No more DIYing your business. No more searching on Pinterest for ways to grow your business or increase sales. No more wasting time on ineffective marketing tactics that don't product results. No more guesswork.
IT'S BASED ON PROVEN FOUNDATIONAL PRINCIPLES
Weekly action items and income generating activities

Proven systems and processes that generate sales

Simplifies and streamlines every area of your business

Gives you the security of consistent sales every month

Turns followers into paying customers

Shows you exactly what to do and why

Allows you to see results and progress over time
IT'S SIMPLE, STRAIGHTFORWARD & EASY TO IMPLEMENT

Narrows your focus to three main elements

Systemizes and automates your business

Eliminates distractions and wasted time

Can be customized to work with your business and lifestyle

Can be mapped out on a one page monthly planner

You can set it up once and use it over and over

It doesn't require any fancy or complicated tech

It turns your business into a machine
IT REQUIRES MINIMAL TIME ON SOCIAL MEDIA

Plan and schedule your email and posts 2-4 weeks at a time

Allows you to communicate directly with your audience

Does not require oversharing about your personal life

Doesn't require "engaging in the comments" all day

Gives you ownership of your audience

Gives you control of your sales and payment processes

Provides security of a biz that can exist without social media

Eliminates concerns about trends and algorithms

IT TEACHES YOUR CUSTOMERS HOW & WHEN TO BUY

Shows you how to create compelling offers with a reason to buy now

Makes the sales process easier for you and your customers

Provides value by eliminating decisions and saving time for customers
IT SAVES YOU TIME, MONEY & ENERGY

Makes it easy to plan production expenses and time

Gives you more time to create and live your life

Gives you cash up front

Allows you to forecast sales and demand

Allows you to plan your sales and marketing in advance

Creates a biz that can run without you if you want (or need) a break

Shows you how to evaluate and optimize every area of your biz

Gets your focus away from the noise and distractions of social media
IT PROVIDES ONGOING TRAINING & EDUCATION
Uses repeatable processes and systems for everything

Empowers you to run your business efficiently and profitably

Allows you to make informed decisions about every area of biz

Teaches skills that you will use forever

Opportunities to learn from guest teachers, coaches and experts

Resources for outsourcing to virtual assistants

Training on email marketing

Writing sales copy for email and social media
IT INCLUDES A FOCUS ON WORK/LIFE BALANCE & MINDSET

Gives you tools and skills to manage your mindset

Focus on personal development and growth

Shows you that you're not alone and setbacks are normal on the journey

Includes suggestions for books, podcasts and other resources

Reminds you to take care of and prioritize yourself
The Maker CEO Strategy Is NOT About Doing MORE Of Anything...
It's about creating systems and processes to automate your business and turn it into a machine, so that you can work LESS, but still make more money.

Spending LESS than an hour a week on social media
Being able to limit OR eliminate your dependence on vendor events
Having a customer list of people who have either purchased from you in the past, or plan to in the future
Having your sales and marketing activities planned and SCHEDULED a month at a time
Being able to forecast your monthly sales
Generating CONSISTENT sales every month
Having a business that runs like a machine so you can TAKE TIME OFF if you want (or need) to
Being in control of your own sales and marketing
Being EMPOWERED to know what's best for you and your business, and EQUIPPED with the skills needed to do it
Having systems and processes for EVERY aspect of your business, instead of constantly re-inventing the wheel
Running your business in a way that feels AUTHENTIC to you, and is aligned with your lifestyle and business goals
Receiving ONGOING training and resources to build skills that you will use forever in your business
Knowing exactly WHAT to do every day in your business, and WHY
Being in control of the growth and success of your business
Being empowered to make informed decisions about your business
Being able to focus on income generating activities, while outsourcing or elimating the rest
NOT wasting any more time, money OR energy on INEFFECTIVE marketing tactics that don't drive results
Having more time to create and live your life!
BUILDING AN AUDIENCE OF CUSTOMERS, NOT FOLLOWERS
QR codes
CRMs (MailChimp etc)
using your website or social platforms to capture leads
lead capture platforms, tools and processes
CTAs
free downloads
surveys, quizzes
paid ads & lead pages
loyalty & VIP programs
gift guides & wish lists
hosting your own local events
joint venture and collaboration events
virtual events
auto-responders
copywriting
email marketing: how to get them to open your emails (without being annoying), read them and take action
HOW TO GENERATE CONSISTENT SALES, STARTING TODAY
pricing strategies
product positioning, presentation and differentiation
the 3 ways to increase revenue
custom orders and pre-orders
limited edition & limited release offers
scarcity and offer deadlines
bundling and collections
coordinates, accessories and add-ons
using price increases and decreases to generate sales
secret discounts
gift guides & services
events (vendor events & DIY events)
implementing memberships and subscriptions
monetizing your knowledge with kits and workshops
PERFECT YOUR MESSAGING AND SCALE YOUR BIZ TO NEW HEIGHTS
planning, batching and scheduling your promotions
seasonal ideas for marketing and promotions
copywriting for email and social media
hooks and how to "stop the scroll"
optimizing your social profiles to include your messaging
marketing principles and fundamentals
public relations, joint ventures and collaborations
keyword and hashtag research and optimization
websites and landing pages
benefits and demographics of each social media platform
email platforms and automation
direct response marketing
paid ads, traffic and conversions
online stores vs external sales platforms (Etsy, etc)
You've already done the hard part. You are a entrepreneur. You've started a business, which is something most people will NEVER have the guts to do.
You deserve to have every advantage, and to give your business the best possible chance of succeeding. No one but you can EMPOWER and EQUIP yourself.
52 Weeks of Action & Inspiration Designed To Help You Turn Your Business Into A Machine, So That You Can Build A Business And Life By Design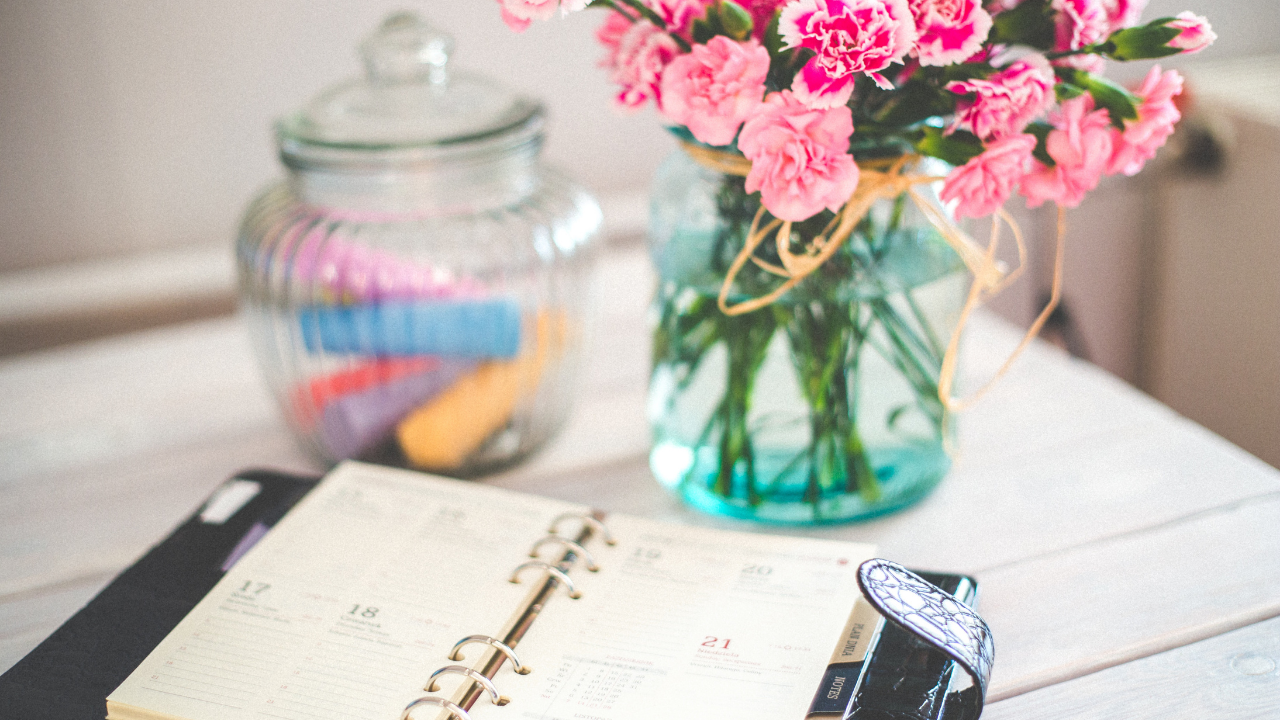 Each week I take you step by step through a process or system designed to profitably and sustainably grow your business. The resources are bite-sized and easy to implement. There is no "Fluff"... every resource is actionable content that drives results in your business. I don't fill the program with generalized and conceptual advice like "create content" and "show up online". I'm a business owner too, and I know that those activities are time wasters and do NOT correlate with generating actual income.
The One Strategy You Need to Generate Consistent Sales Year Round
Turn Your Followers Into Paying Customers
Selling Online Without a Website
How To Get Your Customers to Buy TODAY (Without Being "Salesy" or Pushy)
Implementing A 30 Day Marketing Plan (So That You Can Spend Less Than An Hour A Week On Social Media)

How To Create Graphics and Templates For All Of Your Marketing and Promotions

Dial In and Systemize Your Messaging (So That You Always Know What To Say In Any Post Or Email)
Why An Email List Is Way Better (And A Whole Lot Less Time/Energy Consuming) Than A Facebook Group

Pricing Strategies For Email, Social Media and Vendor Events

Complete Product Audit (Including Market Positioning and Differentiation)
Monetize Your Knowledge With Kits and DIY Workshops (In person OR virtual)

Creating Memberships and Subscriptions In Your Physical Product Business

Choosing An Email Platform That Can Automate and Streamline Your Marketing

How To Get People To WANT To Give You Their Email Address

How To Get People To WANT To Open Your Emails

Creating a Video Vision Board

#FailForward (Re-Framing Failures So That You Can Silence Your Pesky Inner Critic)

Quarterly Planning And Goal Setting For Generating The Income You Want

Identifying And Eliminating Your Limiting Beliefs

Productivity Hacks To Get More Done Every Day

Why Self Care Is Essential

Building a Business And Life By Design (So That You Can Avoid Burnout And Overwhelm)
My Favorite Free Online Tool For Organizing ALL Of My Marketing Assets (images, links, product descriptions, pricing, text, etc)

Outsourcing Tasks To A Virtual Assistant

Build Your OWN Business, Not Facebook's Or Etsy's

Using Facebook Ads Manager: For Handmade Business Owners

Using TikTok For Fun AND Profit (Without Stressing Over Content And Engagement)

Organizing And Hosting Your Own Unique (Small Scale) Shopping Events

Mindset Tools To Get Yourself Out Of A Funk

Using Collaborations To Boost Your Sales And Visibility

Using Pre-Orders To Jumpstart Your Sales Every Season

Optimizing Your Social Media Profiles

Creating Email Sequences (Welcome, Order Confirmation, Etc)
Creating Checklists And Processes For Every Area Of Your Business (So That You Never Have To Do Anything Twice)

Creating Loyalty/VIP or "Secret" Programs For Your Customers

Using Online Quizzes To Boost Your Sales And Build Your Audience

Self-Liquidating Offers

The Pricing Conversation (Spoiler: There is no pricing formula)

Using Limited Edition and Limited Release Offers To Generate More Sales

Building A Cohesive Product Suite That Maximizes Revenue

Creating Gift Guides And Wish List Programs

My Favorite Tips And Hacks For Selling At Vendor Events

Copywriting And Best Practices For Email Marketing

Why Your Mindset Determines Your Income

Using Digital Assets (Downloads, PDFs, etc) To Build Your Email List And Generate More Sales

My Favorite Resources For All Areas Of Business (Podcasts, Books, Tools, Platforms, etc)

Choosing The Best Marketing And Sales Platforms For Your Specific Product Category

Advanced Facebook Ads
You can learn the CORE FRAMEWORK of the Maker CEO Strategy TODAY and start generating more sales right away! (Seriously.)
If nothing changes... nothing changes.
You have to be willing to step into the next level if you want to grow AND if you want your biz to be around in 5, 10, 15 years.
12 MONTHS OF RESOURCES, ACTION & INSPIRATION
WEEKLY TRAINING & EDUCATION
STEP BY STEP PROCESSES
12 MONTH ACCESS
WEEKLY EMAILS
MINDSET TOOLS & TRAINING

INSPIRATION & ENCOURAGEMENT

Value $2297
Value $997
Value $497
Value $1497
Value $1497
priceless :)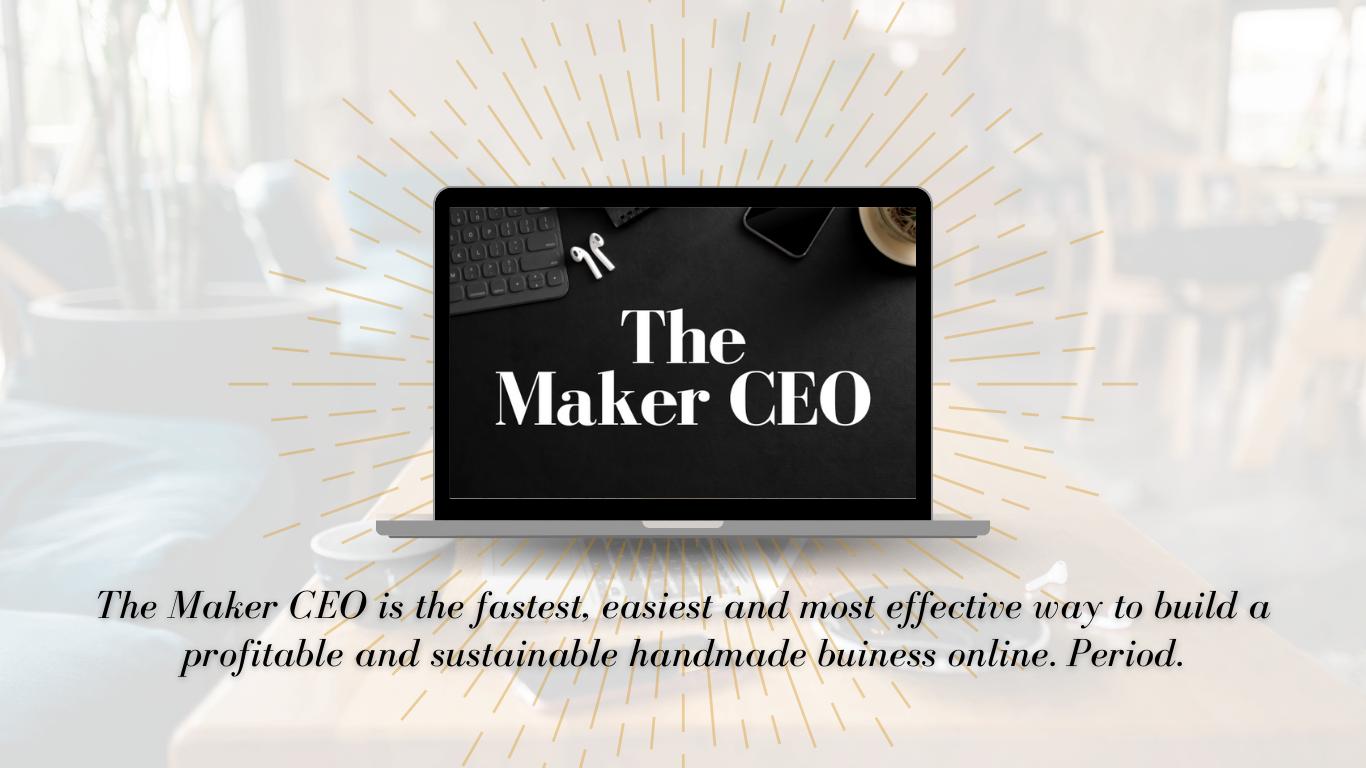 The Maker Revolutn is a 12 month program. If you choose the multi pay option, you are committing to both payments. Members are grandfathered in at the rate they join at, for as long as they remain a member. If a member leaves and comes back, membership will be at the new and current rate.
What's it going to be? Are you going to continue doing the same things and getting the same results in your business?
Or are you going to take control of your future and build a wildly successful business so that you can spend MORE time doing what you love, with who you love, whenever you want?
If you're like me, you've probably QUIT TOO SOON on more than one business idea... for no other reason than the opinions of other people in your life. That ends today.
THE MAKER REVOLUTION GUARANTEE
IF YOU IMPLEMENT THE SYSTEMS AND PROCESSES IN MCEO FOR 12 MONTHS AND DO NOT AT LEAST DOUBLE YOUR MONEY, WE WILL GIVE YOU A FULL REFUND.
Send proof of your promotions and marketing for the duration of your time in the program to receive your full refund.
The best part of the MAKER CEO STRATEGY is that you only need to set it up ONCE, then you can run it over and over year round to generate consistent sales!
Are we right for each other?
If any of the following sound like you, you're in the right place!
If typical social media marketing just doesn't feel good to you
If you KNOW there has to be a better way to build your business
If you've been looking for more effective ways to generate sales
If you don't enjoy social media and are tired of trying to force it
If you don't feel authentic when you try to engage and share online
If you're tired of feeling like you're doing it wrong
If you're tired of feeling like it's working for everyone but you
If you're tired of trying to fit your business into a specific model
If you're tired of the constant frantic need to "get" sales
If you want to build an audience of customers, not just followers
If you know you should trust your gut and make some changes
If you just need a little help to show you a better way
If you're ready and willing to shift and make some changes
If you're ready to build something permanent
If you're ready to take control and empower yourself
If you have no desire to share about your personal life on social media
If you are planning to have your business for the long term
If you would like to be able to step away or take more time off
If you're done spending time and energy on social media for very little results
If you no longer want to rely on social media or vendor events

If you want to stop spending all your time and

energy on social media
If you just want to make beautiful things and make a living!
I've done so many online programs and courses, and the worst part is always keeping track of all the lessons, downloads and live calls. So we keep track of all that for you!
When was the last time you invested in yourself?
I know we haven't even met yet, but I really do want to help you build a profitable business that feels good, down to your soul.
I have been through all the phases of business. I know how satisfying it is to be making money doing what I love. And I know how terrifying it can be to be desperately waiting for the next sale to come in. Those are the times we withdraw into ourselves, tighten our (financial) belts, and fixate on what we don't have.
I want you to be part of our community, but I don't want you to do it in a state of fear. My number one priority is making sure you get exactly what you need from this program, and that includes getting a return on your investment.
Every week you'll get action items and ideas to inspire you and produce results, including ideas to make some cash RIGHT AWAY.
Even if life gets in the way and you need to take some time off from your business, you can always check in every week and generate some quick sales. (You'll be surprised at how even that small consistent effort will generate long term sales and get your customers to start looking forward to hearing from you every month).
So don't let money be the reason you don't invest in yourself.
Because, who else will?
Every thing we do in The Maker Revolution is to set your business up to run like a machine. An early mentor of mine taught me to never do anything more than once in my business.
Meaning; set up systems and processes for everything you do so you're not constantly starting over or trying to re-invent the wheel. And so when you need (or just want) to take a break, your business doesn't come to a grinding halt.
That's what The Maker Revolution is all about.
How much time will I have to spend every week on the material? It's up to you. Nothing has to be done in a specific order, so you can work on each area of your business as needed (and as time allows).
How will I get the training and resources every week? You will receive an email notifying you when something new is added to the platform. All workshops are hosted online, so there are no emails or course materials for you to keep track of.
Do I have to complete a workshop before I can get the next one? No, they will automatically be uploaded to your account every seven days.
What if I'm not good with technology? Is the course platform complicated or difficult to use? No, it's super simple to use, even if you can barely operate your smartphone.
What if I just started my business? Will the workshops still apply to me? Yes! You will definitely be ahead of the game and will be able to start your business with a strong foundation.
When will I get my first workshop? You'll receive the first one as soon as your join, and then you will receive another one every week for the next year.
Copyright 2023 The Maker Revolution